MOTORSPORT EVENTS IN THE NETHERLANDS
Racing may not be the first thing that comes to your mind when you see the Dutch flag, but it is definitely one of the trademarks of the Netherlands. Adrenaline-rushing competition goes hand in hand with the passionate nature of the Dutch, so it is no secret that motorsport is quite popular among them. It has a long and rich history, with many talented drivers and successful teams hailing from the country.
Racing fans have probably already heard of famous Dutch drivers Max Verstappen and his father Jos Verstappen, or the legendary Zandvoort circuit, but in this article we will also cover some less known but equally interesting facts about motorsport in the Netherlands.
MOTORSPORT ORIGINS, ZANDVOORT CIRCUIT AND DUTCH GRAND PRIX
It certainly feels like motorsport and racing has been running through Dutch people's veins since forever. You think this statement is overexaggerating? Well, for the past 8 consecutive decades, The Netherlands has had at least one active driver who was competing in Formula 1. Yes, for the past 8 whole decades!
It's a widely spread opinion among motorsport fans that Formula 1 is the peak single-seater racing competition. Even though the first official Formula 1 World Championship was held in 1950, the Netherlands hosted it for the first time in 1955 at the legendary Zandvoort circuit.
This track alone is one of the classic circuits not only of Dutch motorsport but the whole Formula 1. It has been used for racing since the 1930's by locals who sought the thrill of adrenaline and challenges on the streets of this coastal town west of Amsterdam. 
So far, the circuit has hosted 32 races in Formula 1's history and it was the scene of astonishing drives of icons such as Graham Hill, Jackie Stewart and Jack Brabham.
Unfortunately, this circuit has witnessed many accidents which has led to a 36-year-long halt. Since then, the track went through a lot of modification and safety has been improved tremendously. And with the recent increase in popularity in the Netherlands, Zandvoort is again part of the Formula 1 calendar until 2025.
Nonetheless, the Dutch Grand Prix is ​an event that unites people from all around the country and their fans set up the tone for the whole racing weekend. You can only imagine how it is when even Toto Wolff, Mercedes AMG Formula 1 team principal, claimed in an interview: 'You've set a fan engagement benchmark for all Grand Prix promoters around the globe'.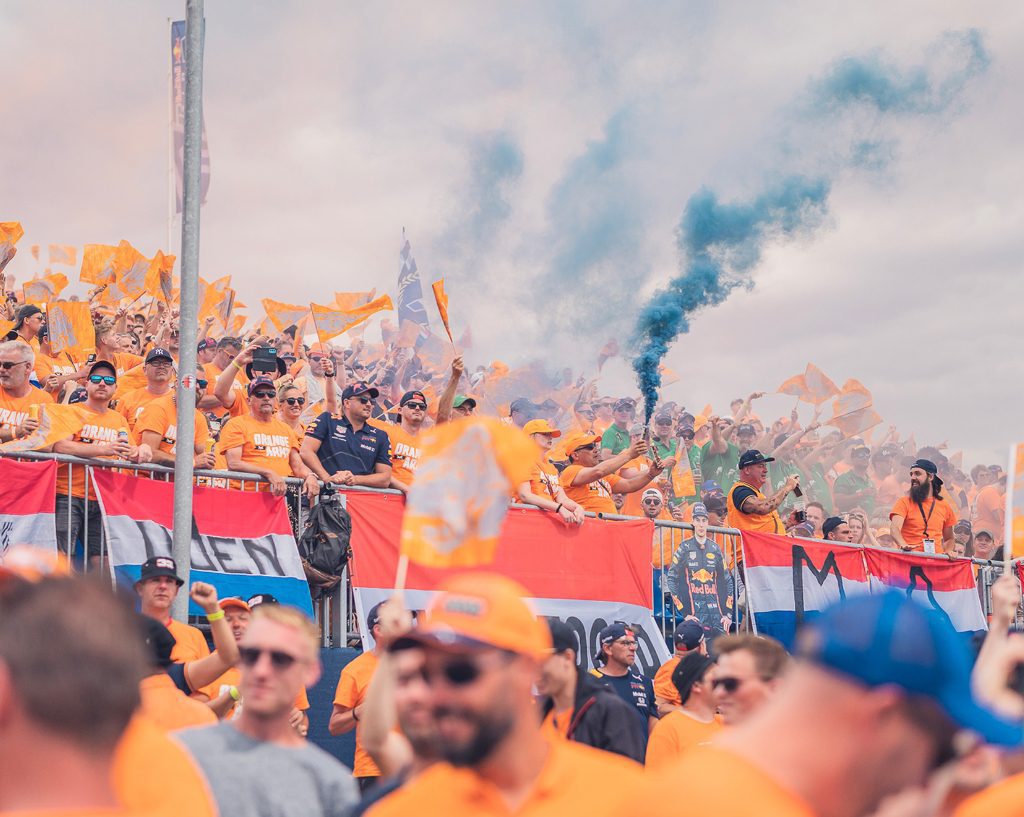 For Dutch people, motorsport is more than just racing – it's a historical event and festival for all generations. 'Oranje Army' (Orange army in English) as they like to call themselves, is one of the fiercest fan groups in the motorsport world. You can already guess that orange is the national colour of the Netherlands. They wear it symbolically at all sports events and due to their passionate, vocal chanting they are called the 'orange army'.
Their fan base counts tens of thousands of loyal supporters at each Dutch Grand Prix and they are known to create a party atmosphere. Dutch fans are also known for their creativity when it comes to supporting their favorite drivers. They even dedicated a song to their favorite driver, Max Verstappen, naming it 'Super Max'.
THE LAND OF MOTORSPORT LEGENDS
The recent rise of Max Verstappen has contributed to the boost in popularity of the sport in the Netherlands. 'Mad Max', 'Super Max', 'Flying Dutchman' are just some of the nicknames that fans have given him over the years. Under his father's guidance, at the age of 17, he became the youngest driver ever to join Formula 1 competition.
Known for his impeccable and fearless driving, he is always pushing the limits on the track and he is not afraid of the conflict, even off the grid. Even though, he showed more character in his early days,he has come a long way since then and his maturity is growing with each season. If anything, his 2 consecutive driver's championship titles provide a hard proof for that.
Besides him, there are many other drivers worth mentioning. One of them is definitely his father, Jos Verstappen. He had been competing in Formula 1 from 1994 to 2003 and he raced wheel-to-wheel with some of the most notable names of motorsport such as, among others, Michael Schumacher, Damon Hill and Mika Häkkinen.
As of current time, besides Max there are several drivers participating in either in Formula 1, Formula E or Indy car racing: Nyck de Vries, Robin Frijns, Rinus Veekay.
The Netherlands has also brought up many great names that made motorsport exciting to watch and some worthy of notice are: Jan Lammers, Christijan Albers and Gijs Van Lennep (he won 24h LeMans twice).
If you thought that racing is only for guys, you couldn't be more wrong, because there are some ladies who compete professionally in both single-seaters racing and other motorsport forms. Beitske Visser, Indy Dontje, Shirley van der Lof and Milou Mets are some of them for instance.
MOTOGP AND DUTCH MOTORSPORT: ICONIC TT CIRCUIT ASSEN AND RAZOR-SHARP DRIVES
If Formula 1 is considered the peak of racing sports, then superbike racing is for sure the one that requires the most courage in the racing world. MotoGP is the second most popular type of motorsport in the Netherlands. The popularity of the sport can be attributed to a number of factors, including the country's long history of motorsport, the success of Dutch riders in the sport and the presence of the TT Circuit Assen.
Notorious for its fast, flowing layout, with a mix of high-speed corners and technical sections, TT Circuit Assen is one of the most iconic and challenging circuits in the MotoGP calendar. Because of this, many riders cite it as their favorite. Also, this track has a long and rich history, having hosted the Dutch TT since 1925. This makes it one of the oldest tracks on the MotoGP calendar too. If you're a fan of MotoGP, attending the Dutch TT is a must-see event. With its rich history and challenging circuit, it's no wonder that the TT Circuit Assen is known as "The Cathedral" of motorcycle racing.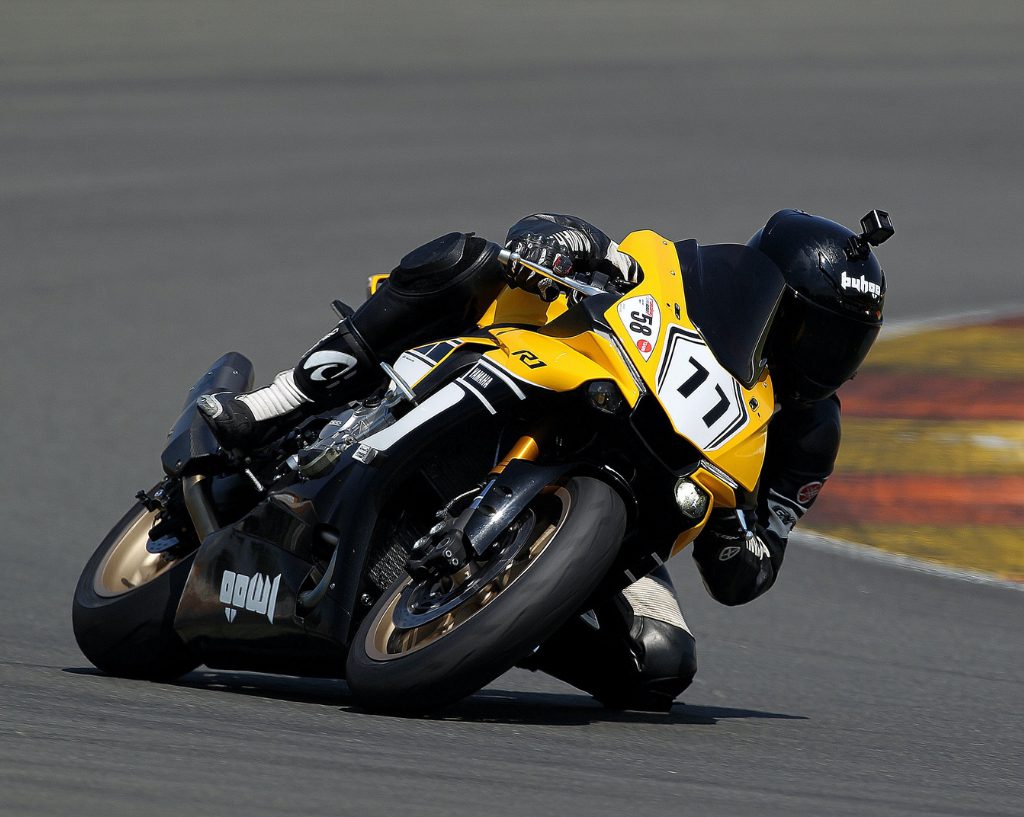 OTHER FAMOUS MOTORSPORT EVENTS IN THE NETHERLANDS
The Netherlands is quite versatile when it comes to motorsport. If you want something different, there are more interesting events outside the ones we mentioned. Whether you are a motorsport fan or just seek pure adrenaline, you will definitely enjoy visiting these atypical motorsport competitions.
Gamma Racing Day: The Gamma Racing Day is a motorsport event that takes place at the TT Circuit Assen. The event features a variety of racing categories, including touring cars, sports cars, and motorcycles. It also includes demonstrations by historic racing cars and other special vehicles.
ADAC GT Masters Zandvoort: The ADAC GT Masters Zandvoort is a sports car race that takes place at the Circuit in Zandvoort. The event is part of the ADAC GT Masters championship and it features some of the most powerful and advanced sports cars in the world.
Pinksterraces: The Pinksterraces is a motorsport event that takes place at the Circuit Park in Zandvoort over the Pentecost holiday weekend. The event includes a variety of racing categories, including touring cars, GT cars, and prototypes. The Pinksterraces has been held annually since 1949 and it is one of the oldest and most prestigious motorsport events in the Netherlands.
Motorsport culture is strongly connected to Dutch cultural identity and their passion for sports goes beyond racing. The country has many successful racers and it's the most famous circuit in Zandvoort has witnessed more than a few majestic drives over decades of racing.
For Dutch people, motorsport events are more than that. It is the time when everyone dresses up in the same color and joins the cheerful orange horde. or those looking for something a bit different, there is always an opportunity to explore other types of motorsport happenings within the country. All in all, if you like racing and motorsport in general, the Netherlands is definitely the right country for you.
Looking for a job in the Netherlands? Have a look at our available jobs and apply below.